FAQ's
How would I arrange a tour of Kitty Cottage?
Even though planning a vacation is a busy time, we encourage you to visit the cottage, see our cat condos and cat corrals, and have time to ask questions. You may even fill out some of the paperwork during your visit to facilitate drop off on vacation departure day. Just call for an appointment.
Why do I need appointments for check-in and check-out?
Upon kitty's arrival, we need to devote our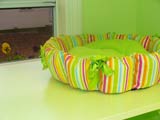 entire attention to our new guest and family to ensure that we have the complete health and lifestyle information we need to provide optimum kitty care. Kitty and family also need time to get kitty comfortable for his or her stay. On check-out day, we'll want to be sure none of his or her comforts of home are forgotten.
Does my cat need shots in order prior to boarding?
For the comfort and safety of all of our guests, we require receipts showing that your kitty is current with rabies, FeLV, and distemper. We require that you apply a flea control product
What should I bring for check-in?
You will need a vet's documentation of the required vaccination's, any medication's your kitty may be taking and your kitty's favorite cat food. Favorite toys, blankets, scratch posts, etc., from home are welcome. In addition to these day-to-day items, it is helpful and comforting to bring something that smells like you, such as a t-shirt or scarf. We'll also need an itinerary with phone numbers where you can be reached as well as a local contact person in case we are unable to reach you.
What types of medications can be given?
We are very good at giving pills, oral liquids, eye and ear medications, insulin, and subcutaneous fluids. There is a fee of $1 a day for noninvasive medication administration and $3 a day for shots , sub-q fluid administration and wound dressing changes.
What happens if my cat gets sick during his or her stay?
If your cat showed signs of not feeling well, we would first contact you and then your veterinarian. If your vet could not be reached, we would take him or her to Tufts Veterinary Emergency Treatment & Specialties in Walpole. We suggest that you leave credit card information and instructions with your vet before you leave.